Weta Workshop Polystone The Lord of the Rings Trilogy Eowyn in Mourning Mini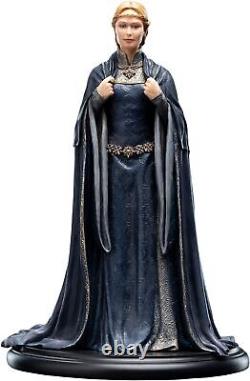 Title: Weta Workshop Polystone - The Lord of the Rings Trilogy - Eowyn in Mourning Mini Statue. Description: WINNER OF SEVENTEEN ACADEMY AWARDS, THE LORD OF THE RINGS TRILOGY WAS BROUGHT TO THE BIG SCREEN BY NEW LINE CINEMA. WETA WORKSHOP WAS INTRINSICALLY INVOLVED IN THE DESIGN AND PHYSICAL EFFECTS MANUFACTURE FOR ALL THREE FILMS. Perfectly sized for easy display and ideal for any desktop or bookshelf, this?
Owyn miniature statue will make an excellent addition to your Weta Workshop miniatures collection. It takes hundreds of hours to design, sculpt model make, mold, and paint the prototype for each new Middle-earth piece.
Whether it be a prop replica, beautiful environment, or iconic character, we treat our collectibles with the same level of care and attention to detail that we bring to our film work. THE NIECE OF KING TH? OWYN WAS BOTH NOBLEWOMAN AND WARRIOR, HAVING BEEN RAISED AS A SHIELD MAIDEN OF ROHAN. OWYN HONED HER SKILLS, PRACTICING EVEN WHEN HER UNCLE FORBADE HER TO FIGHT ALONGSIDE THE MEN.
The Lady of Edoras had a deep and abiding affection for her cousin, Th? Odred, and when the prince was cruelly struck down by Orcs, she stayed faithfully at his bedside until his last breath. With her brother exiled and her uncle under the insidious influence of Saruman, ? Owyn was left to suffer in isolation, subjected to the unwelcome attentions of Gr? FEATURES: Made from high quality polystone Approx 6.5 inches tall Depicting the Lady of Edoras, ? Owyn Gowned in her mourning dress, in memory of her cousin Th?
Odred Made with reference to the original film scans and imagery? OUR AUTHENTIC PROP REPLICAS AND COLLECTIBLES ARE DESIGNED BY THE VERY SAME ARTISTS WHO HAVE WORKED ON THE THREE FILMS, SO EFFECTIVELY THE COME STRAIGHT FROM MIDDLE-EARTH?
CEO & Co-founder, Weta Workshop Ages: 14-99 Country of origin: China Please note: Images are of a pre-production prototype. Each piece is hand painted and some variations will occur.