Weta Lord of the Rings Balrog Demon of Shadow and Flame 1/6 Resin Bust Statue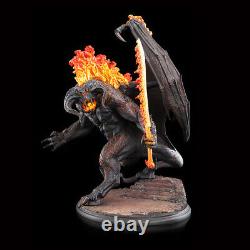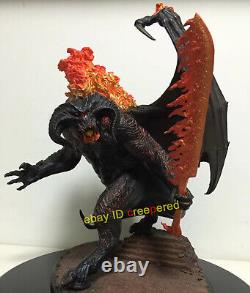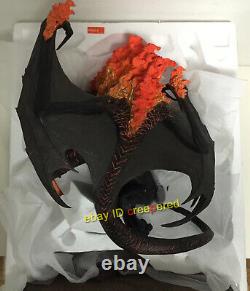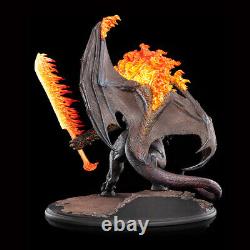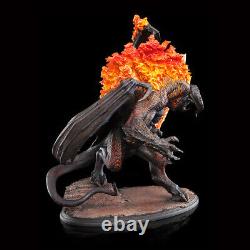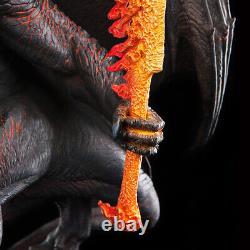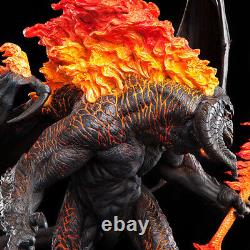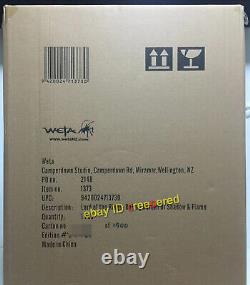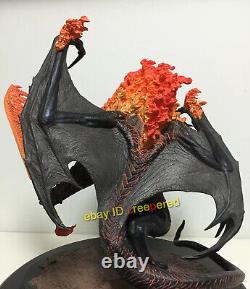 Weta Lord of the Rings Balrog Demon of Shadow and Flame 1/6 Resin Bust Statue. Weta Lord of the Rings Balrog Demon of Shadow and Flame FACTORY SEALED CASE. This listing is for a new, factory-sealed item. Depicted Edition # may vary. Dimensions: 18" x 20" x 12 (W x H x D) 44.5 cm x 52 cm x 30 cm.
Moria, famed Dwarf kingdom and mine wherein Mithril, rarest of Middle-earth minerals, snaked its way through the living roots of the Misty Mountains in rivers of silver. Rivalling Erebor in its prime, the great Dwarf city of Dwarrowdelf was a celebration of the wealth and power of Durin's folk. But, as it would come to be understood in aftertimes, the Longbeards delved too greedily and too deep.. Far beneath the ground, tunneling for Mithril in sunless black rock, the Dwarves disturbed something that had remained safely entombed since ages past, a being of unfathomable terror, relic of a time of gods and giants, a creature of which like should never walk again in Middle-earth and for whom there were few equals remaining in the world: a Balrog of Morgoth. A demon composed of shadow and flame, the Balrog could be harmed by no blade or device of Dwarf design.
By the hundreds, Durin's people and the Dwarf King himself fell before the beast, after named Durin's Bane. When the Fellowship of the Ring sought to pass beneath the Misty Mountains and thereby thwart the attentions of the fallen Wizard Saruman, it was against Gandalf's grave misgivings, for the Grey Wizard suspected what haunted in the shadows of Moria. Secrecy alone might secure their safe passage, for if the Balrog were alerted, Gandalf knew their escape would only be bought at great price, and he would not again pass through the Dwarf realm's doors. Our authentic prop replicas and collectibles are designed by the very same artists who have worked on the three films, so effectively they come straight from Middle-earth. Richard Taylor - CEO & Co-founder, Weta Workshop. If the item is pre order item or the item is super big item and we will shipout 2 packages. One is postcard as a small gift, the other is the item you ordered. If you receive the postcard first, please don't worry, just wait for the second package. And if you have problem with the item or something wrong with the item, please contact me, and I must do my best to help you, best wishes. Custom Duty is on the Buyers', but we can mark it as a gift and mark down price of this items. Pls make sure when you place the order. But we can mark it as a gift and mark down price of this items. Products pictures on our websites are shown for customers' reference, there may be a little difference due to different light environment or display.
If the item is broken when you received it and could please do not sign for this item, and you should contact me or post office frist, i will do my best to help you. Your FEEDBACK is really important for us. Your 100% satisfaction is guaranteed. We will respond to your emails within 24 hours.
Your better comments will be an encouragement for us to offer better quality and better service in future, thanks. Your messages will be answered within 24 -48 hours. We shall try our best to solve your problem to your satisfaction. Please allow us at least 24 hours to reply you when in the office, thanks! This item is in the category "Collectibles\Fantasy, Mythical & Magic\Lord of the Rings\Figurines, Statues, Busts". The seller is "creepertoys" and is located in this country: CN. This item can be shipped worldwide.
Country/Region of Manufacture: China
Genre: Fantasy
Brand: Weta
Franchise: Lord of the Rings