WETA 1/72 The Hobbit SMAUG THE TERRIBLE Limited The Lord of the Rings Statue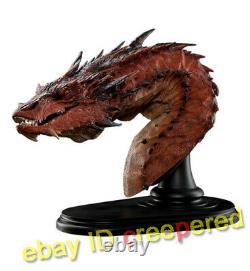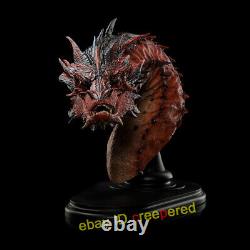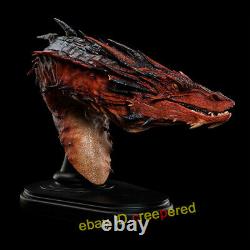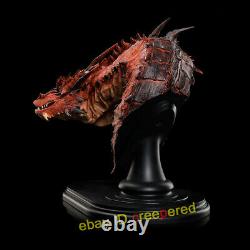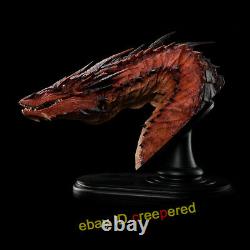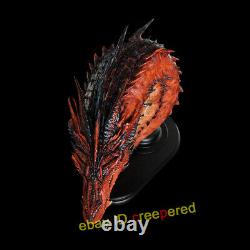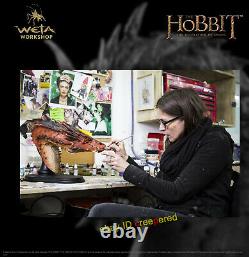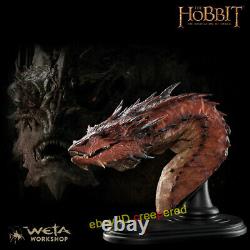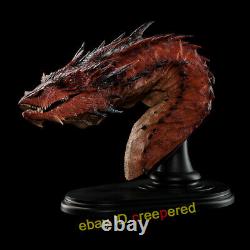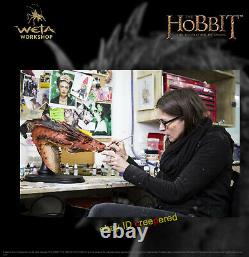 WETA 1/72 The Hobbit SMAUG THE TERRIBLE Limited The Lord of the Rings Statue. Dimensions: 14.2" x 18.1" x 9.4 (H x W x D) 36 cm x 46 cm x 24 cm. Weight: 23.1 lbs (10.5 kg).
This epic piece joins Weta's range of finely crafted, highly detailed collectible polystone statues from Middle-earth. In the cavernous gloom beneath the lonely Mountain, all is quiet. A hot stillness lies upon the vast desert of gold and treasure that carpets the ancient Dwarf citys once teeming halls a treasure unrivalled in all Middle-earth, but which glitters unlooked upon by mortal eyes, for the wealth of Erebor is not unguarded. Many decades have passed since the Dragon Smaugs appetite and lust for gold lead him south from the Withered Heath to assail the kingdom of the Dwarves. Swift and terrible was his coming in which untold multitudes of men and Dwarves died in fire and ruin. For now, all is peaceful in the halls of the sleeping Dragon, coiled serpent-like in his hoard. Yet this stillness is an illusion, for the jealous mind of a Dragon is never restful.
Fevered dreams of thieves and usurpers make his slumber an angry one, eyes snapping open to dart back and forth, long snake-neck rising suddenly to swing about, counting the coins and cups, platters and gem-studded jewellery, his senses keenly tuned to the barest hint of scent or soft step that might herald the intrusion of some greedy, reckless fool. Smaug will share no trinket of his hoard, and as immeasurably vast and powerful as he is, doubt gnaws the corners of his confidence, fraying his wits and dooming him to a restless, broken, red-hot sleep. Into this simmering pit of suspicion and rage stumbles a simple hobbit with no thought of treasure.
Propelled by his obligation to honour a naïve promise to a friend and prove himself worthy of a Wizards faith, Bilbo Baggins treads nervously upon the hallowed gold. It is a simple act of astounding bravery that impels each nervous step, spilling trickles of coins that become a cascade, a landslide of gold that will in turn unleash upon the world a monstrous wrath, change the course of history and precipitate a brief and bloody siege, for Bilbo has awoken the Dragon. Smaug the Terrible - Bust Edition can either stand on a flat surface or hang on the wall. Just loosen the bolt, turn Smaug's head 180 degrees on its base and fasten the bolt again. See images 4 and 5 above. Product images are of a pre-production prototype. Each statue is painted by hand and variations will occur. This is an Open Edition piece.
Please Note: Smaug the Terrible is supposed to have a horn on either side of his head missing from a battle. Norway, Netherland, Finland, Ireland, Denmark... UK, CA, AU, NZ, DE.
The return items should be included the original package and accessories. We live in china, we exist time difference, our working time is Beijing time: 08:00 -18 :00 , I will reply you within 16 hours, Sometimes, I maybe away the office, so maybe respond you a little late.
Beijing time=PDT time+15 hours , =UTC time+8 hours, =BST time+7 hours. Thank you for your visit! My goal is to make sure you are a happy customer and pleasant shopping with us. The item "WETA 1/72 The Hobbit SMAUG THE TERRIBLE Limited The Lord of the Rings Statue" is in sale since Monday, April 5, 2021. This item is in the category "Collectibles\Fantasy, Mythical & Magic\Lord of the Rings\Figurines, Statues, Busts".
The seller is "creepertoys" and is located in Suzhou,Jiangsu. This item can be shipped worldwide.
Country/Region of Manufacture: China
Genre: Fantasy
Brand: Weta
Franchise: Lord of the Rings